Here on the Rural Sportsman shooting range we spend hours shooting and running through shooting drills. Most of this work involves the testing and evaluation of new firearms and ammunition. However, inadvertently, we test a lot of other gear as well. We find out quickly what shooting bench items, footwear, clothing, targets, etc. hold up under hard range use. Here are some of the items that have impressed us the last month or so.
Nexbelt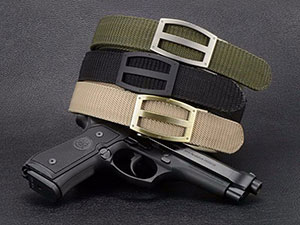 The Nexbelt, known as the "belt with no holes", we have found is an excellent concealed carry belt as well as a causal wear belt off the range. It is unique in several ways. It is made from a high tech nylon webbing that is stiff enough to carry a loaded 1911 tight to the body all day comfortable. Part of this comfort is because of the belts ¼-inch increment adjustments. It comes in a 50-inch length. To fit it to your body correctly just add four inches to your normal waist size and take scissors and cut off the extra length. Hash marks with inches are printed on the inside of the belt. Take the cut end of the belt and secure it into the buckle. Where holes would be in other belts a line of hard plastic angled teeth are set ¼-inch apart inside the belt and when run through the belts buckle you stop at the desired tightness. It guarantees a secure and snug fit. To loosen or remove the belt the buckle has a small release that is pressed to free the teeth from the buckle ratchet.
The Nexbelt that I am wearing is black with a black buckle but other colors are available as are leather belts and a Realtree Xtra camo belt for hunters. Cost of a belt such as mine is $49.99. To learn more go to www.nexbelt.com.
Read More