Learning to control fire was one of early man's most important accomplishments. He found that by being able to create fire he could keep warn, light the darkness, clear land, make tools, cook food and use it as protection from predators.
Researchers are not sure if the first fire-making was the result of discovering that a spark could be generated by friction, such as a hand drill, bow drill or fire plow, or if it was discovered that a spark could be generated when the sharp edge of a hard rock when struck against iron pyrite rocks. What we do know is that when fire-making was mastered it quickly became a part of man's daily routine.
Fast forward to the Iron Age and the discovery that the sharp edge of a hard stone such as flint, jasper, obsidian or quartzite when struck against high carbon steel produced sparks faster and easier than all previous methods of fire-starting. The flint and steel kit became a part of history from then until the discovery of friction matches in the middle 1800's. Slowly in the early 1900's as friction matches were improved, flint & steel kits started disappearing from home hearths, woodsmen pouches and trappers cabins.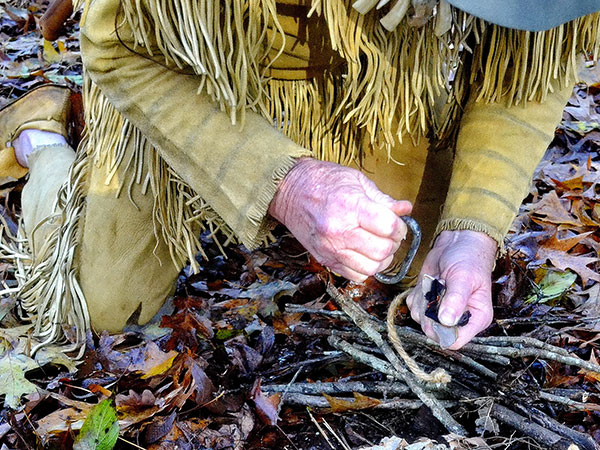 However flint & steel kits didn't entirely disappear. Even today many woodsmen, re-enactors, and survivalists use flint & steel kits, such as those made by Vern's Flint & Steel (http://www.vernsflintandsteel.net) , much as it was done in the frontier days of early America.
Read More