KNIVES CHOSEN BY OUTDOORSMEN WHO DEPENDED UPON THEM
One's favorite knife, like firearms and other outdoor gear, can be a heated debate around any campfire where several real woodsmen gather. What one woodsman likes may not be what you like, and vice versa. The best knife makes for an interesting discussion.
During my half century of being in the company of outdoorsmen who depended on knives daily and spending many hours researching those who came before them, I came up with a list of some of the better known outdoorsmen and the knife they considered their favorites. As you read down this list you will quickly see that there is no one knife that fits all.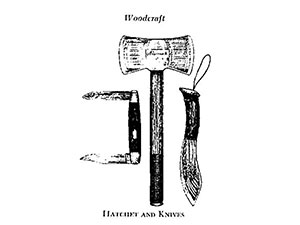 George Washington Sears, aka Nessmuck 1821- 1890. Nessmuck best known as being America's first outdoor writer. He wrote for Forest & Stream magazine and was the author of the book Woodcraft & Camping which is still in print today. He is famous for his "trinity of cutting tools" which consisted of a small double-bit hatchet, a belt knife which he designed and a moose-style pocket knife with spey and clip blades.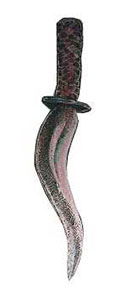 Ben Lilly 1856 – 1936. Lilly was a woods wanderer from an early age. He became best known as a hunter of large predators in the southwestern US and northern Mexico. His favorite knife was a large S-shaped double edge bowie knife he made for "sticking big cats and bears." His camp knife was a more traditional Green River style blade with an antler handle.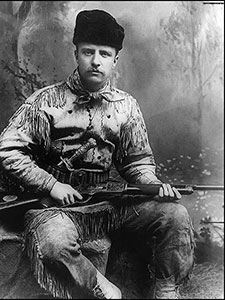 Teddy Roosevelt 1858 – 1919. Roosevelt is best known as the hero of San Juan Hill and the 26th President of the U.S. However Roosevelt was a seasoned outdoorsman and wrote several books on hunting and the outdoor life. During his cowboy days in the Dakota Territory and his early big game hunts his knife choice was a large silver inlayed Bowie knife made by Tiffany & Co. in 1884. In 1907 it seems he switched to a Marble's knife designed by Roosevelt's friend and fellow big game hunter Dall DeWeese.
Horace Kephart 1862 – 1931. Kephart was a well-known outdoor writer based in the Great Smoky Mountains of North Carolina. His book Camping & Woodcraft was considered the bible of the outdoors and the book is still in print. Kephart lived in the backcountry and was a major player in the establishment of the Great Smoky Mountains National Park. He designed the belt knife, first made by Colelesser Cutlery, he always wore and the pattern is still produced today. The original knife is on display at Western Carolina University.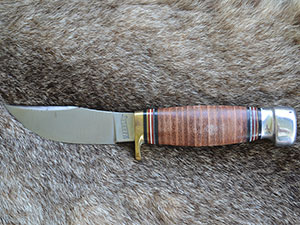 Townsend Whelen 1877 – 1961. Whelen, a colonel in the U.S. Army, was better known as a firearms writer but much of his writing was on woodcraft and he has a tent design that bears his name. According to his writing in his woodcraft books he had two favorite knives. The first was a large belt knife he made from a Green River butcher knife. He named the knife Seeds-ke-dee. His second knife was a Marble Hunter with a 3 ½-inch blade.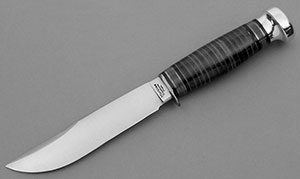 Calvin Rustum 1895 – 1982. Rustum was the author of 15 books on woodcraft and canoeing. He was a constant explorer along the Canadian/U.S lake country and lived the outdoor life. He often said his favorite knife was a fixed blade Marble's Expert with a 5-inch blade.

Bradford Angier 1910 – 1997. Angier lived with his wife in the backcountry of British Columbia and wrote magazine articles and books on the wilderness lifestyle and skills. He was one of America's first survival writers. He wrote that his favorite knife was a Randall Model 5 that he had modified. According to Randell, the modifications included a black micarta handle, silver nickel hilt, a wrist thong and a compass in the butt of the knife.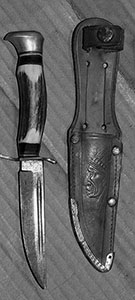 John Jobson 19?? – 1979. For over 20 years Jobson was the camping/hunting editor for Sports Afield magazine. He also was the author of several camping and shooting books. He lived in Utah. According to his books he had three favorite knives. The first was a Bohlen fixed blade knife made by the Pontus Holmberg of Sweden, the second a folding knife model J249 made by Ralph Bone of Lubbock, Texas and the third was a Randall, model unknown, probably a Model 5.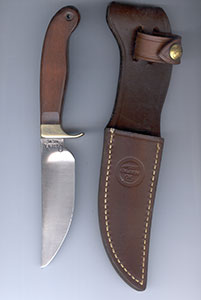 Fred Bear 1902 – 1988. Bear was one of the best known bow hunters ever and the founder of the Bear Archery Company. I had the privilege of hunting with Fred during the 1970's and early 80's. He told me he had two favorite knives, an Olsen 4 ½-inch fixed blade knife and a Western Model 648, a 4 3/8-inch blade knife with a bone stag handle. He gave me an Olsen knife off his belt during one hunt and I kept it for years. I donated the knife to the Professional Outdoor Media Association to be auctioned as a fundraiser.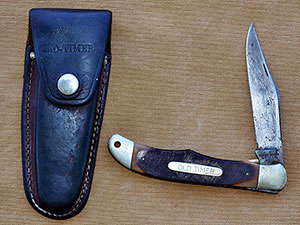 William H. "Bill" Jordan 1911 – 1997. Jordan was a U.S. Border Patrol agent for 30 years. During WWII he was a Captain in the US Marine Corps and saw combat in the South Pacific. In his later years he was the author of several books and wrote for gun magazines. I hunted with Bill for over 20 years and early on he didn't have a favorite knife, he used whatever was handy. I gave him a Schrade 125OT folding hunter in the late 70's and he used it thereafter. I don't know if he considered it a favorite or not but he used it for many years.
Ted Trueblood 1913 – 1982. Trueblood was an editor at Field & Stream for 41 years and wrote 7 books on outdoor subjects. He lived in Idaho and spent his life hunting, fishing and camping. He wrote that his favorite knife was one he bought from a knife sharpener in 1936 in Boise, Idaho. The fixed blade knife was made in 1914 by a blacksmith at the Boise King Mine.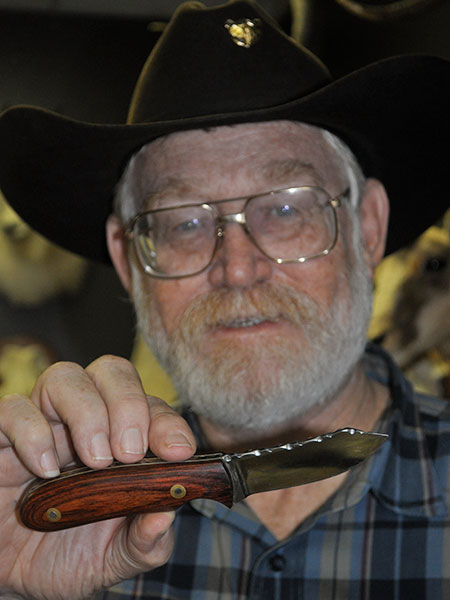 Larry Weishuhn – Weishuhn is a whitetail deer biologist, book author, magazine writer, speaker and host of the TV program Trailing the Hunter's Moon. I have shared many camps with Larry and he knows knives and how to use them. He tells me his favorite is a custom 3-inch fixed blade knife made by Rusty Savole. Weishuhn carries it in a parallel sheath.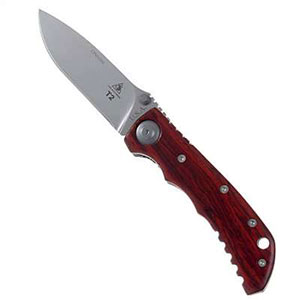 Judd Cooney – Cooney has been a conservation officer in Colorado, a hunting outfitter for many years, a wildlife photographer, magazine writer and outdoor book author. He tells me his favorite knife is a Lone Wolf walnut handled Model T2.
David Petzal – Petzal has been an editor at Field & Stream magazine since 1972. Currently he is the shooting editor at the magazine. During the last few years much of the knife coverage the magazine has been given to knives Petzel did it. He has written a number of books on firearms. He tells me that his favorite knife is a 41/2-inch fixed blade custom knife made by Wayne Hendrix.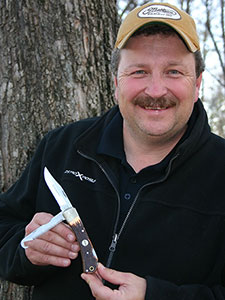 Bill Miller – Miller has spent his entire career in the outdoors, first as the editor of North American Hunter and host of the North American Hunter TV program. Currently Miller is an editor at 50 Campfires magazine. His go to knife when in the wilderness is the Remington R-3 which is a folding hunter style knife with two blades – a 3 7/8-inch clip blade and a saw blade with a gut hook.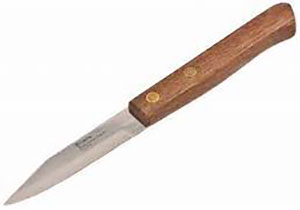 John E. Phillips – One of the most prolific outdoor writers in the business, Phillips has written thousands of magazine articles and over 50 books. He knows knives as he was a taxidermist before becoming an outdoor writer and tells me he tried them all not only in camps but for skinning and capping hundreds of trophy critters. His all-time favorite knife is a Queen Cutlery paring knife.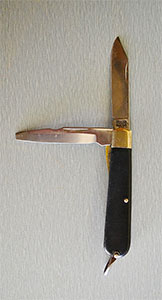 Medrick Northrop – Northrop is a modern day mountain man who has a varied outdoor background, all with a knife with him. He is a retired Army NCO, spent 7 years in Alaska working in the backcountry with the Army Corps of Engineers, manager of a hunting lodge and guided anglers and hunters. His favorite knife is a U.S. military TL-29 electrician's knife, a strong folding knife with two blades – a spear blade and a locking blade that serves as a flat head screwdriver and a wire stripper.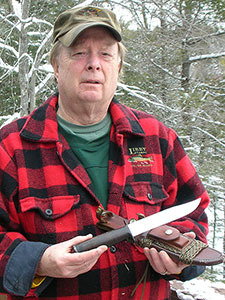 Eric Brooker – Once an executive with such gun companies as Colt and Thompson Center, Brooker lives deep in the woods of New England in a log cabin. He is one of the most knowledgeable woodsmen I have spent time with in camps. His favorite knife is a rare version of the MKII Ka Bar military knife.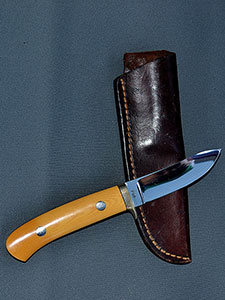 J. Craig Haney – Haney is a magazine writer and book author. He is the camp cooking editor for Southern Trout magazine and the shooting editor of Great Days Outdoors. He designed his favorite knife, a short semi-skinner fixed blade, several years ago and it was made by custom knife maker James Poplin.