Here on the Rural Sportsman shooting range we spend hours shooting and running through shooting drills. Most of this work involves the testing and evaluation of new firearms and ammunition. However, inadvertently, we test a lot of other gear as well. We find out quickly what shooting bench items, footwear, clothing, targets, etc. hold up under hard range use. Here are some of the items that have impressed us the last month or so.
Nexbelt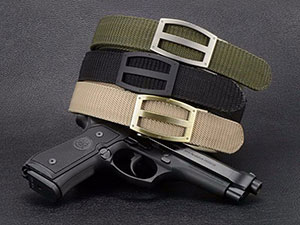 The Nexbelt, known as the "belt with no holes", we have found is an excellent concealed carry belt as well as a causal wear belt off the range. It is unique in several ways. It is made from a high tech nylon webbing that is stiff enough to carry a loaded 1911 tight to the body all day comfortable. Part of this comfort is because of the belts ¼-inch increment adjustments. It comes in a 50-inch length. To fit it to your body correctly just add four inches to your normal waist size and take scissors and cut off the extra length. Hash marks with inches are printed on the inside of the belt. Take the cut end of the belt and secure it into the buckle. Where holes would be in other belts a line of hard plastic angled teeth are set ¼-inch apart inside the belt and when run through the belts buckle you stop at the desired tightness. It guarantees a secure and snug fit. To loosen or remove the belt the buckle has a small release that is pressed to free the teeth from the buckle ratchet.
The Nexbelt that I am wearing is black with a black buckle but other colors are available as are leather belts and a Realtree Xtra camo belt for hunters. Cost of a belt such as mine is $49.99. To learn more go to www.nexbelt.com.
First Tactical 6-Inch Side Zipper Duty Boot
I wear out boots at an alarming rate running drills on the range and doing farm chores. The gravel on my pistol range works like sandpaper on boots. I just discovered a boot that is up to the task, giving me comfort yet foot and ankle support at the same time. This is a 6-inch lightweight black side zipper duty boot made by First Tactical. Due to the heavy duty side zipper the boot is quick and easy to slip on. There is also a pull-on tab on the back of the boot to help with getting it on. The boot is designed like a running shoe with a sole that is made to repel mud but give traction. I especially like the stitched rubber outsole that protects the heel and leather toe from abrasion. The top of the boot is nylon.
I have given these boots a rough work out and, so far, they are taking it without showing wear. Price is $79.99 for more info go to www.firsttactical.com.
Maglula UpLULA Pistol Magazine Loader for 9mm-.45 magazines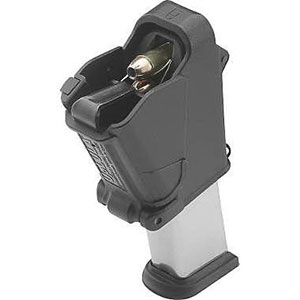 There are a lot of people, including me, that have a difficult time loading some pistol magazines due to arthritis, weak thumbs or stiff magazine springs, especially when the last two or three cartridges are to be inserted. Here at the range we have been using the Maglula UpLULA pistol loader for 9mm -.45 cartridges, available from Cabela's, Midway and Amazon for about $39.00. This loader makes it easy for anyone to load cartridges into magazines. The loader, made from heavy duty polymer, is quick and easy to use and makes loading for even the weakest hands a snap. We now consider it an essential part of our range gear. The UpLULA comes in a variety of colors and I chose lemon so that it would stand out in my gear bag.
Federal's Practice & Defend Combo Packs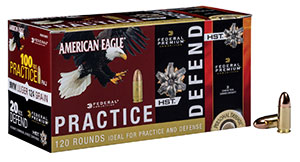 This last item I put into this report just because I think it is a great way to package ammo for those new shooters purchasing pistol ammo for their carry gun. In one box Federal has combined personal defense loads and ballistically matched training loads. Available in .380 Auto, 9mm Luger, .40 S&W and .45 Auto each box contains 100 rounds of target ammo and 20 HST Personal Defense rounds. It takes all the guess-work out of shopping for ammo for the newbie and is priced to be affordable.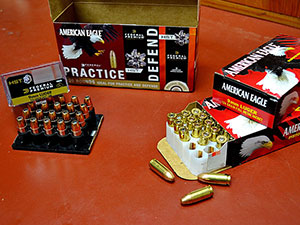 These Practice & Defend Combo Packs are a real convenience for shooters. The price varies from $80.95 to $96.95 depending upon caliber. To learn more go to www.federalpremium.com.
That's it for now but check back with us as we tear up some gear and find other gear that is worth telling you about.