Isaac – Trek to King's Mountain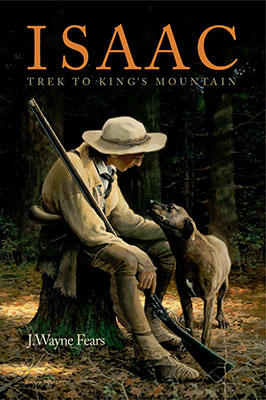 Isaac was a 14 year old happy boy living on a small remote wilderness farm when his father was killed by the British in 1780 during the Revolutionary War. At almost the same time a British Major Ferguson threatened the "overmountain" settlements with fire and sword if they didn't join the British fight against the patriots. The men in the overmountain farms and settlements quickly formed an army, unpaid, untrained, with little organization or leadership and began a long trek over the Appalachian Mountains in search of Ferguson and his Loyalist troops to defeat him. Isaac, against his mother's will, and with an old woods-wise longhunter, joined the rag-tag army and began the historic trek to find the British.
Based on a true story, you will go with Isaac, aging longhunter Reuben McGee, and his dog Rufus on the well over 100 mile trek during which Isaac walked much of the way in moccasin clad feet. Every day was an adventure and a struggle as the "overmountain men" dealt with possible Indian attacks, not knowing where the British were, horrible weather, traitors and an always shortage of food and supplies. On the trek, Isaac is constantly learning, sometimes by mistakes, about wilderness living and impending combat. Fear is a constant companion.
Midway on the trek Isaac meets Sara and he feels emotions he has never felt before. She becomes his main reason to survive the impending battle and return.
Isaac's story is about one of the most important true battles in American history and how he, like many teens participated. It is a compelling adventure story about men going up against all odds, and coming out victorious. It is a thrilling story about how a young boy becomes a man in just a few weeks. Isaac – Trek to King's Mountain is well known outdoor book author, J. Wayne Fears, at his best!
To buy your copy go to: http://www.amazon.com.
Click on the covers below to purchase other books by J. Wayne Fears