THE MODERN HOME BUILT FOR SURVIVAL
"This is not a home built for survival!" a disappointed friend in the survival writing community exclaimed as we drove into the front yard of my new home. "It's a nice modern home in a beautiful rural area", he continued, "but no bunker, no solar panels, no cistern barrels, and it's not hidden away in the woods." I could sense his disappointment that I didn't live in a fort miles from the nearest pavement.
Far too many people new to living the preparedness lifestyle think that the modern home designed for survival has to be a remote fortified mountain man's lair that looks like a junk yard. When my wife, Sofee, and I decided to build our new home in a rural area with the design being weighted towards surviving our local threats – long hot summers, winter ice storms, tornadoes, long power outages, and possible long periods without going to the super market – we also wanted comfort and modern conveniences when they were available. We wanted a secure homestead with room to grow our own food, have a small private shooting range and entertain outdoors. Sofee was the chief designer and she designed a home that accomplished all this and more.
Location, Location, Location
Our first concern was to locate in a rural community where neighbors had the same logical survival mentality as us. We wanted to have neighbors that looked after one another and the community. We wanted neighbors who had skills for self-sufficient living when necessary. We wanted neighbors who were shooting and gun friendly and with experience with firearms.
We desired our property and home to be at the end of the road but not where we had to plow out after every storm and not where the local near-do-wells went to drink beer and dump their garbage. We also wanted property to be on a year-around stream for recreation as well as for a water source if it ever became necessary.
We wanted to be within a 30 minute drive to a large town with a quality health care system yet we wanted to be adjacent to large tracts of forestland for hunting as well as scenic value and lack of future development.
After an extensive search, we found just such a place in a small rural "subdivision" that has lots ranging in the 5 acre to 20 acre range that is located at the end of a county road adjacent to a large mountain. The road is paved and all utilities are underground safe from storms. There is one way in and one way out, no quick get-away after breaking in a house. There will only be about eight homes in the community and most are already built with storms and general survival in mind. All owners chose to live on acreage due to their somewhat self-sufficient lifestyle and desire for privacy with security. All have shooting experience and several have military experience with three being retired Army officers. If due to civil unrest spilling over into the countryside it became necessary to block off this little community it would be easy to do and with the training and home defense equipment on hand it would take a lot to breach the area.
Since this is a rural area dotted with farms, bartering for meat, vegetables, etc. is easy and the farm families make good neighbors.
The acreage we chose is at the end of the dead-end road that runs through the subdivision. It has a bold creek along the back property line, a three acre wood lot, a home site on a hill high enough to never have a flood threat and free of trees keeping the wildfire threat to a minimum. It turned out to be an ideal building site.
Tornado Protection and Safe Room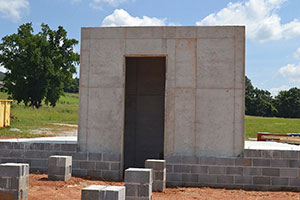 The area is known as a tornado prone part of the country. As the foundation of the house was being built, a concrete/steel safe room was poured in place. It was built to withstand an E-5 tornado. Sofee designed it so there was room for survival supplies as well as for sheltering several people in the event of a storm or other emergency. As the house was being completed an E-5 rated vault door was added to the room. The safe room has electricity, HVAC, and is wired for TV, radio, and phone.
Hot Summers and Short, but Cold, Winters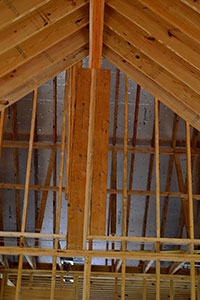 The area where we live is known for long hot, humid summers and short but cold, icy winters. We wanted a house that could withstand either of those weather extremes with or without modern HVAC. To help keep the house cool during hot weather, the sheathing on the roof was built from LP Tech Shield Radiant Barrier OSB sheathing. Each sheet of the OSB has a laminate face of breathable foil. It repels as much as 90% of the sun's heat keeping the attic much cooler. Houses built with this material can go with less AC and it is said to save up to 17% on summer power bills.
The exterior walls of the house were insulated with spray polyurethane foam for greater insulating value and to reduce air leakage. Also, interior walls were insulated so that the house during power outages could be closed off to keep heating and cooling efficiencies to smaller spaces.
Sofee took great care in choosing windows for our modern survival home. To get the most value for keeping the inside of the house comfortable and energy efficient during the entire year she chose Andersen Eagle Series Low E-4 windows. Even during long term power outages these windows do a lot to keep the house interior tolerable as in many houses the windows are where much heat or cooling escapes.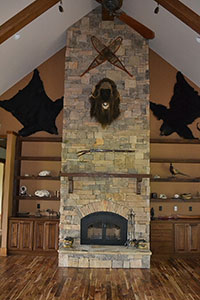 While the house has the most modern HVAC system we could find, we had a Model 44 Elite Xtrodinair catalytic wood burning fireplace built into the great room. This fireplace will heat the entire house due to its blowers and if necessary, due to its wide hearth, we can use if for hearth cooking.
Two rooms of the house have cathedral ceilings to help keep them cool in the summer and the bedrooms and the great room has highly efficient ceiling fans that are reversible for summer or winter use. Also there is a large screened in back porch that can serve as a sleeping porch in the summer if ever needed due to prolong power outages.
Backup Power Source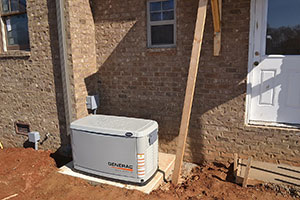 Power outages are a way of life when you live at the end of the line for public utilities and in an area subject to a variety of storms. Our house was wired for and has a 20KW Generac Guardian 20 KW standby generator that runs off propane gas. It comes on automatically when there is a power outage and most of the house was designed to be on the system. It will run as long as there is propane in our 500 gallon underground tank, underground to keep it from becoming a bomb if shot during civil unrest.
To be able to cook during power outages our kitchen cooking range is propane fueled and can be ignited with matches if necessary. Also the Rinnai tankless hot water heater is on propane as well, giving us endless hot water even during power outages.
Food Storage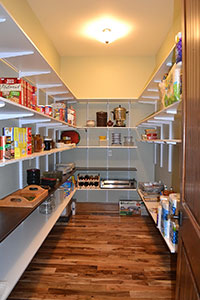 Short and long term survival depends in part on having a good supply of food. In the new house a large pantry has been built to carry an extensive supply of food stuffs in easy to see shelves so that rotation to keep canned goods fresh by date is easy. Also, in a large general purpose storage closet off the kitchen is a 6 month's supply of freeze-dried foods. The house is equipped with two refrigerators and a freezer that are included on the generator circuit.
In the back of the house just off the patio there are raised bed gardens and hunting for game is within walking distance.
Since we enjoy outdoor cooking there are several options for cooking short or long term beyond the gas range. The patio fire ring can quickly cease to be for entertainment purposes and become a cooking center for Dutch oven, reflector oven or general open fire cooking. Near the shop and woodshed is a new bean hole for outdoor baking. In the shop is an extensive outdoor cooking setup complete with gas and charcoal grills. A complete butcher setup is also on hand as we butcher our own game and sometimes a bartered pig or goat.
Water Resources
Everyone knows that survival is very short without a supply of potable water. Our house is on a rural water system that gets its water from an isolated mountain stream just two hollows up the road. At the intake the generator backed treatment plant is located so that pumping water to our community is just a short distance, reducing many potential problems. Just up from the entrance of our drive is a fire hydrant with plenty of pressure and the area has several very active volunteer fire departments.
To have water for watering the lawn and garden we are drilling a deep well in the back yard and having it plumbed so that if necessary we can cut off the public water system and use the well with a pump that is tied in on our power system. Also, the new well will be equipped with a Bison deep well hand pump. This will give us good water regardless of power options or none at all.
The creek down the hill from the house is also an emergency water supply and we have filtration pumps to use that water if necessary.
To keep the water entering the house as pure as possible a whole house water filtration system was installed in the house with an easy to get to filter located in the laundry room.
Important Storage Building
To have a convenient location for making farm equipment repairs, outdoor cooking center, reloading and gun maintaince room with HVAC and general storage, we built a large shop near the house. It is designed to blend with the house and on the back side is a woodshed for wood storage for the fireplace, outdoor fire ring and bean hole. In the shop is hung a canoe. This is not just for recreation but in a worst case scenario it could be used as a stealthful bug-out vehicle to slip out of the back of the property to float downstream to a previously chosen safe area.
Security System
The house was design with a high degree of security in mind. Only three doors gain entrance to the interior and the best locking systems were chosen. A whole house, and shop, security system was built in during construction that includes door/window sensors, glass breaking detectors, movement sensors and a siren that will let the entire community, and beyond, know while law enforcement is on the way. Also, there is a planned lighting system for illuminating the entire house site at night and a security camera system for the exterior and interior the house and shop.
Being a rural area we know that law enforcement may be a while in getting to our house in a home defense situation. Safe and hidden quick and easy to reach gun storage was built into the house. The shooting range on the property is used often to keep shooting skills honed as well as to test reloads.
However, perhaps the best security we have are great neighbors who observe what is happening in our little community and are not afraid to get involved if necessary.
No, our house is not a typical survival retreat complete with a bunker for a home, as has been popularized by TV. It is a comfortable modern home that was designed using the most likely survival situations to set up priorities for construction. Barring a war, or direct hit from a tornado, it will get us through most short or long term emergency crisis and we can do it without too much discomfort. Even with a direct hit from a tornado we will emerge safe to start over again.
Preparedness doesn't have to be isolation or discomfort for most of today's likely survival situations, whether short or long term, just take a little planning when building a home.