THE 7-30 WATERS CUMBERLAND DEERSLAYER
It was the hike from hell! To get into the mountainous fold of land so that the wind would be in my favor required me to go straight up a bluff that was thick with cedar and limestone boulders. Then I had to slide down a steep hillside that was covered with cedars, briers and rocks. I was soon in the rocky crevice I had selected as a stand. It looked into a large white oak covered basin where three hollows came together. Once settled in the rock stand, I glanced down at the little G2 Contender rifle I had assembled just for hunting in the Cumberland Mountains.
Within an hour a large nine point buck came to the low grunts I made and the 7-30 Waters handload I had developed for this semi-custom rifle took the buck cleanly at just under 200 yards. Following that first hunt I named the rifle the Cumberland Deerslayer.  Since then the little rifle has taken many deer in the rough Cumberland Mountains of Kentucky, Tennessee and Alabama.
To say the Cumberland Deerslayer is a custom rifle is not correct, for it isn't. It is a rifle I assembled to hunt a specific region using after market parts and a few friends to help me assemble a short rifle that is perfect for the area I love to hunt. Any hunter can do the same.
Know What You Need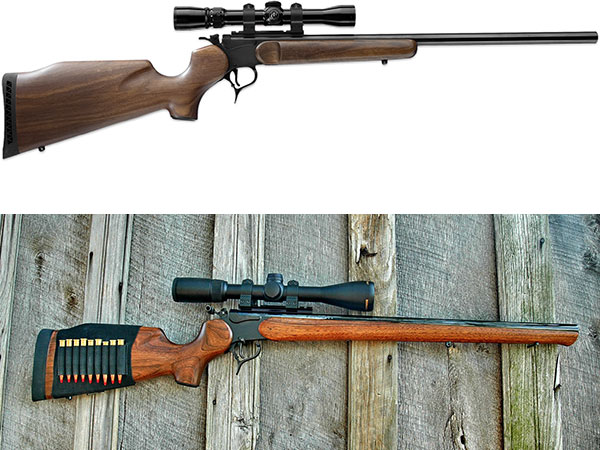 To take an existing rifle and modify it to meet your special hunting conditions requires you to evaluate what your special conditions are and what rifle requirements you need to meet those conditions. Perhaps you have a rifle that, with a few modifications, will do the job nicely. Here is how I did it.
The Cumberland Mountains are steep, rocky, and extremely thick in many places so I wanted a compact rifle. Lots of steep walking is required so I wanted a lightweight rifle. Due to the thick cover, getting a second shot is rarely an option. I knew a single-shot rifle would do the job and the short action would reduce the overall length of the rifle. I like to stalk hunt so I wanted a well balanced rifle for off hand shooting and shooting from hasty rests.
Most shots in this mountainous terrain are short, usually under 100-yards, but occasionally there is a shot in open hardwoods or along a power line right-of-way that may be out to 250-yards so I wanted a proven caliber at 100-yards with the reloading capability to be accurate out to 250-yards. I wanted a caliber that had a mild recoil and muzzle report. In short, I determined that I wanted a rifle with the following specifications:
Caliber: 7-30 Waters
Barrel Length: 21-inches
Stock/forearm: Full Mannlicher style to balance rifle
Trigger: Smooth, creep-free, 5 pounds or under
Carry: Strong sling swivel studs
Lightweight: Under 6 pounds, without scope
Compact: Overall length under 36-inches
Selecting the Basic Rifle
I started my search for the basic rifle from which to work. In my gun safe I had a single-shot T/C G2 Contender rifle which had a 23-inch .223 Rem barrel on it. I decided to use that for my base rifle as it had a trigger as I wished, it weighed only 5.4 pounds, it was easy to change the barrel from .223 to 7-30 Waters and, with the barrel I wanted, would have a compact overall length of just 35-inches.
My first step was to order, from the T/C Custom Shop, a 21-inch barrel without open sights in 7-30 Waters caliber. It was important to me to have an anchor hole drilled into the upper end of the barrel, 8-inches back from the muzzle, for the upper sling swivel stud to go through the thin wood of the Mannlicher-style forearm and anchor into the barrel. The custom shop said they could do it.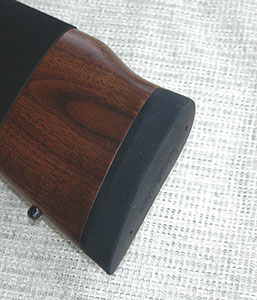 While waiting for the barrel, I designed a Mannlicher-style forearm for the barrel. It used the same forearm-attachment hardware that was on the .223 Rem short forearm. A friend who was a hobby wood craftsman made the new forearm from walnut. I wanted the forearm to match the separate walnut stock. When he completed the forearm I took it to the Whitesburg Baptist Church wood-working group who finished the forearm to match the stock.
For one-shot rifle accuracy, and due to a shattered shoulder a few years ago, I wanted as little felt recoil as possible so I installed a LimbSaver recoil pad on the rifle stock. It reduces the felt recoil up to 70% and helps control muzzle jump.
Assembling the New Rifle
The 7-30 Waters barrel arrived soon after I received the finished forearm and I assembled the rifle. It was a compact, lightweight beauty. For scope mounting I attached a Weaver rail. I attached a hammer extension to the hammer to make cocking the rifle easier for my arthritic thumb. A leather sling was added. A Nikon Buckmasters 3-9X40 scope now sits on the Cumberland Deerslayer. For quick reloading I added a Uncle Mikes Butt Stock Cartridge Holder.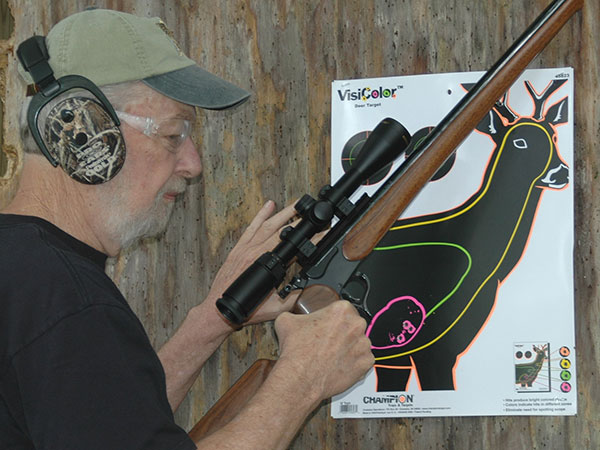 On the range the little rifle shoots a one-inch, five-shot group, at 100-yards with Federal factory loads and I have worked up handloads that makes the rifle deadly on big bucks out to 250-yards.
The rifle has served me well in the rough terrain I hunt and it has taken a number of bucks, plus a much larger number of doe. So if you have an area you like to hunt, assemble a special rifle for that area. You will take pride in hunting with your own creation.